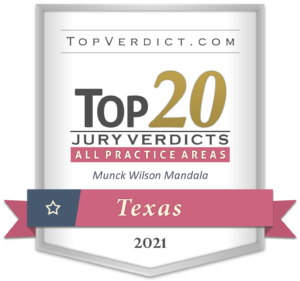 TopVerdict.com recognized Munck Wilson Mandala's 2021 jury verdict of $85.9 million dollars as a Top 20 Verdict in the state of Texas. The verdict was awarded to MWM client AMS Sensors in AMS Sensors USA Inc. v. Renesas Electronics America, Inc. in April 2021. The case was tried in the Eastern District of Texas before U.S. district Judge Amos L. Mazzant III.
TopVerdict reviews cases that were tried in either state or federal courts of Texas to determine the top 20 verdicts each year. The same verdict was also listed as a Top 100 Verdict of 2021 by The National Law Journal, which will publish its Top 100 Verdicts in the July publication.
In early March 2022, Judge Mazzant issued a Final Judgment for $48.2 million in favor of the MWM client, and the judge further ordered the MWM trial team to file a petition for attorney fees, which they did, asking for an additional $4.3 million in April 2022.
This litigation has been ongoing for 13+ years and originated in a 2008 lawsuit against Intersil by Texas Advanced Optoelectronic Solutions, Inc. Since then, TAOS was sold to austriamicrosystems AG and renamed AMS Sensors USA Inc., and Intersil was absorbed by Japanese conglomerate Renesas.
Congratulations to the MWM AMS trial team Michael McCabe, Mike Wilson, Rob McCutcheon, Jordan Strauss, Gaby Monahan, Chase Cobern, Clayton Lynn, William A. Munck, and Sonya Rose.
Munck Wilson Mandala is a full-service, technology-focused law firm known for its powerful litigation teams that represent clients in patent, trade secret, trademark, and other intellectual property disputes as well as high stakes and complex commercial litigation. Named a Texas Regional Powerhouse by Law360 in 2021 and a Litigation Department of the Year by Texas Lawyer in 2020, the firm has offices in Dallas, Austin, Houston, and Marshall, Texas, Los Angeles, California, and is currently opening an office in South Florida. Munck Wilson Mandala represents clients from start-ups to Fortune 50 companies. Learn more about the firm at http://www.munckwilson.com.